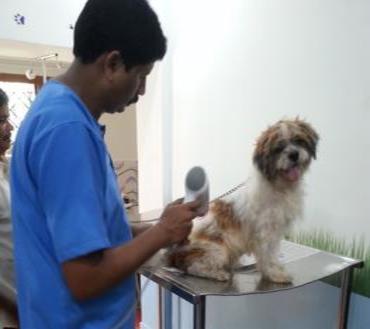 Paws N Tails is proud to offer premium salon and skin care services under the veterinary guidance for the first time in Vizag city, designed to pamper your pet needs.
We have a dedicated place for grooming where pets could be bathed, brushed and clipped with our groomers. You could ask for just a simple bath and pedicure or a more complex cut for your pet and if your pet is very nervous we can medicate so that the pet is more relaxed and not distracted by the noise of clippers or blowers.
At Paws N Tails we expect our pet owners to enjoy the grooming session. We are particular in maintaining hygiene. We always go for freshly washed towels, premium quality shampoos and deodorants for grooming.